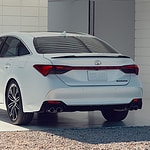 If safety on the road is foremost among your concerns, you're sure to appreciate the Toyota Avalon. The popular Avalon features a full complement of safety amenities, and the team here at Mark Miller Toyota Downtown is ready to tell you all about their many advantages when you visit our showroom in Salt Lake City.
In the event of an accident, the Avalon's occupants will be shielded by 10 airbags that offer protection up in front as well as along the sides of the passenger cabin. The driver and front passenger will also benefit from specially designed seating that's aimed at reducing the chance of injury in a frontal or rear collision.
The Toyota Safety Sense package supplies a diverse array of technology-based safety features. These include blind-spot monitoring, a lane-departure warning system, a pedestrian detection system and advanced cruise control.