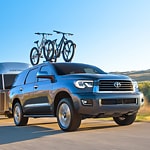 Families who need more spacious interiors choose the full-size Sequoia SUV. The vehicle comfortably seats seven or eight passengers depending on the seating configuration chosen. Toyota ensures that all occupants enjoy long road trips thanks to the array of technology offered in the SUV.
The powered moonroof provides a spectacular view day or night. During the day, let the sun and fresh air circulate throughout the cabin to enhance comfort. By night, gaze upon the twinkling stars and the captivating moonlight thanks to the expansive overhead view.
Passengers enjoy their favorite tunes while playing the satellite radio on the infotainment system having a seven-inch touchscreen. Bluetooth enables individual passengers to enjoy popular radio stations or watch videos on mobile devices when the Sequoia has Wi-Fi hotspot capability. Bring the family to our Mark Miller Toyota Downtown destination. Embark on a test drive and see how the SUV improves the commute.