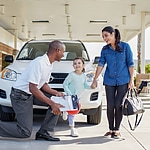 Did you know Toyota maintenance guides suggest new cars get service every 5,000 miles? Toyota Care provides free maintenance services for up to 2 years or 25,000 miles. This means that all of your oil changes, filter replacements, and even spare tire installation services are free. This is all covered under the standard Toyota Care plan, but there are extended plan upgrades.
At Mark Miller Toyota, Toyota Care covers your multi-point inspection, oil changes, fuel level adjustments, tire rotation, and much more. You can take your vehicle in any time within two years of purchase to check your vehicle and get fluids inspected.
On the road in Salt Lake City, your new Toyota is protected under Toyota Care as well. This means if you run out of gas or have a flat tire, you can call this service for 24-hour roadside assistance. Towing is also included if you need further repairs. This can be incredibly helpful if you ever get into an accident or your car won't start. It's all covered under Toyota Care.