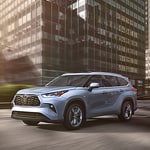 There are clear reasons why the Toyota Highlander remains a popular SUV. One of the primary reasons is because of outstanding performance that doesn't disappoint. It remains a signature feature of the Highlander.

3.5-Liter V6 Engine

At Mark Miller Toyota, we know you'll enjoy driving the Highlander. Its 3.5-liter V6 engine generates 295 horsepower and 263 pound-feet of torque. It also has a towing capacity of 5000 pounds, which is impressive by all measures. Driving a Highlander feels good because of its robust engine.

Multi-Terrain Select

The Multi-Terrain Select feature is available on All-Wheel Drive models of the Toyota Highlander. This feature puts you in control by letting you choose the driving mode that's best for different road conditions. You can choose from Normal, Rock & Dirt, Snow or Mud & Sand. The traction level will depend on the mode that you select. It's another way that the Toyota Highlander prioritizes performance.