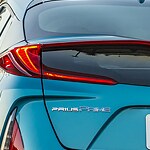 The all-new Toyota Prius Prime has been turning heads since it was released. This hybrid electric vehicle not only gets great gas mileage, but it also has some amazing performance features. In this blog post, we will discuss some of the best performance features of the Toyota Prius Prime.
The first performance feature that we love about the Toyota Prius Prime is the regenerative braking system. This system captures energy from the brakes and uses it to recharge the battery. This not only improves fuel economy, but it also extends the life of the brake pads. Another great performance feature of the Toyota Prius Prime is its all-wheel drive capability. This feature allows the vehicle to distribute power to all four wheels for better traction and stability.
Finally, we love the Toyota Prius Prime's advanced safety features. The vehicle is equipped with a pre-collision system, lane departure alert, and automatic high beams.